Proudly Climate Active
Being socially responsible is part of our strategy to be the best worker entitlement fund in Australia. Accordingly, Protect proudly holds carbon neutral organisation certification.
Climate Active certification is the most rigorous and credible carbon neutral certification available, awarded to organisations that have achieved a state of zero net emissions, through reduction and offsetting, otherwise known as carbon neutrality.
The path to certification has focused us on improving efficiency, adopting sustainable solutions and consciously demonstrating our social and environmental commitments with the community. Some of the steps taken below have contributed to a 30% reduction in emissions over three years:
Investing in the development of electronic communication channels including the Protect mobile App and the two online portals for employer and worker account access
Utilising 100% green power as of December 2017
Replacement of our lighting system to include timers and/or sensors
Purchasing of Climate Active certified carbon neutral products such as electricity and paper
Cessation of monthly paper contribution statements to employers
Moving worker's 6 monthly account statement online
Zero carbon footprint
We are committed to further emission reduction practice in the years to come. To maintain our zero carbon footprint, Protect invests with WithOneSeed, a community forestry program in Timor Leste that also offers local social benefits, to offset emissions that have not been reduced or eliminated.
A collective initiative
We are proud to say that Protect is Climate Active. Our choices, and the changes in the way we do business, ensures our carbon emissions are equal to zero. Protect members contribute to that status when they choose electronic channels of communication and online interactions such as making a claim through our App or the worker portal linked to this website.
Learn more about being Climate Active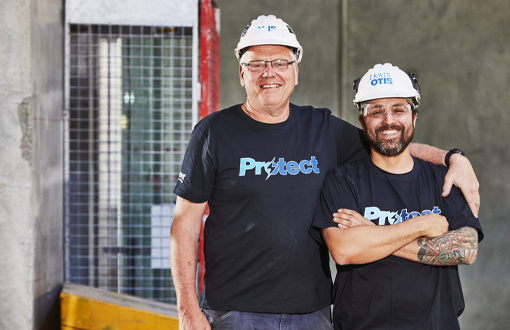 The history of Protect's carbon neutral certification
In 2016, an internal initiative began when a group of Protect employees raised the environment, sustainability and community as areas of importance and concern to them.
A working group was quickly established and, with the support of the CEO and Board, they set about identifying ways Protect could meaningfully improve its standing and increase its involvement in the three areas.
The group identified National Carbon Offset Standard (NCOS), Carbon Neutral Program - now known as Climate Active, as a program of credibility that would help Protect work toward desired changes.
Within the next 12 months, the team defined Protect's carbon footprint, an arduous task achieved with assistance from an external auditor. They also identified a community based, sustainability focused, Timor-Leste carbon offset initiative, 'WithOneSeed'.
In April 2017, as a result of all that work, Protect gained Climate Active carbon neutral organisation certification, becoming the first severance scheme in Australia to do so.
Following on from NCOS' certification, WithOneSeed's co-founder and Project Director Andrew Mahar and Director John Clarke, presented the Protect Carbon Neutral Team with a certificate signed by the Prime Minister of Timor-Leste, Rui Maria de Araújo and Nobel Peace Prize recipient and former Prime Minister H.E. José Ramos Horta AC, amongst others.
The team was ecstatic to say the least and increased their commitment to improving Protect's carbon emissions through reduction initiatives.
A special thank you to the Protect Carbon Neutral Team, presently consisting Michelle, Paulo and Sara (pictured L-R in the header image above) for their dedicated efforts, achieving such important certification.