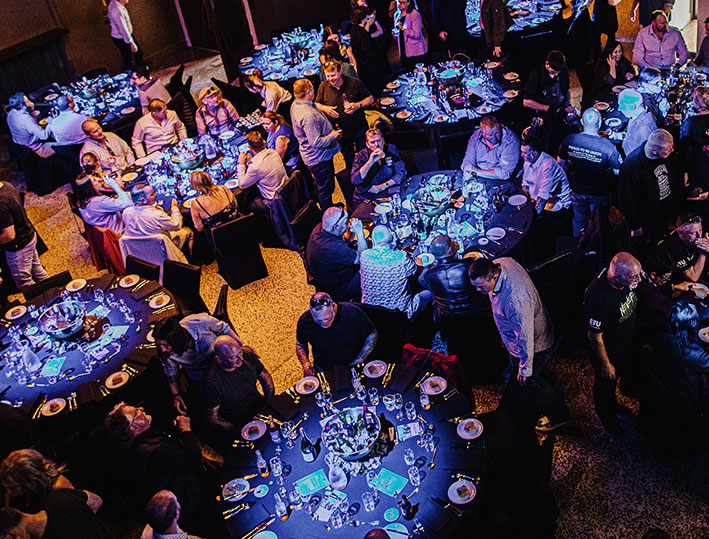 This year our dinner event in support of Mental Health Month raised funds for Youth Projects The Living Room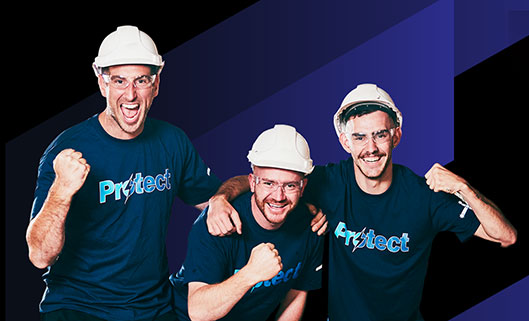 Congratulations to the winners of our Bill Buster competition sharing a prize pool of $20,000! View the draw on Instagram: @protectmembers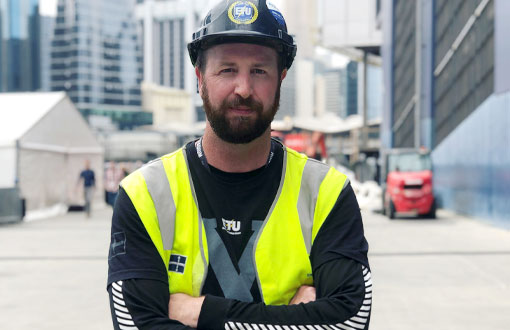 Matthew Potts is an ETU Delegate and HSR representing members at the Marvel Stadium Redevelopment Project. Explaining the Protect scheme, how it works, and what benefits can be accessed is an important part of his role.
Supporting the Australian trades sector since 2000
Protect Industries
About Us
Preferred by 50,000 workers and 1,200 employers
We partner with employers and unions to bring workers the best employment benefits in the country.
Our primary purpose is to support our member employers, workers and their families during any period of unemployment, illness, injury, or personal difficulty.
AU & NZ Counselling Phone Numbers
1300 725 881 | 0800 300 143
Protect counselling is a free confidential service for individuals seeking support, as well as employers and workers wanting advice on the best method to assist colleagues dealing with a range of concerns:

COVID IMPACTS
SUICIDE PREVENTION
GAMBLING PROBLEMS
BULLYING & HARASSMENT
Depression & Anxiety
RELATIONSHIP ISSUES
SOCIAL ISOLATION
FINANCIAL PROBLEMS
SUBSTANCE ABUSE & ALCOHOL ADDICTION

STRESS & PRESSURE AT WORK
At my age it would be hard to get another full time job if I'm made redundant, there's more casual work in the industry now. So the Protect account is like a nest egg isn't it, it can be very, very handy.
Income protection payments with Protect cover you for two years. When something like this (injury) turns your life upside down, the best thing you can do is make sure you've got good cover like Protect.
When the company went into liquidation, I was so lucky to have my Protect account, it was honestly a lifesaver. It gave me the ability to take a breather and plan for where I wanted to head in the future. 
Other insurance companies will promise the world and deliver nothing. Protect's claim acceptance rate is excellent and the bells and whistles are the injury benefits which other schemes don't have.
I was able to fully concentrate on my recovery without the pressure of financial concerns. I cannot speak highly enough about the assistance and ongoing support that I have received from Protect.
We'd heard some very positive outcomes that had happened with Protect. We like the relationship with Field Officers means that there is a team available to support us when we need it. 
I've been able to claim a tax free redundancy and you can do it all on your phone using the App. You don't have to speak to anybody to lodge your claim, check your account or view your membership card.
Because my injury happened on the road I went through TAC and thought I had to take a hit on income support, but thanks to Protect's advice and assistance I am receiving more financial support while recovering.
It says a lot for Protect that you have a whole team that are there for the workers, that have members interests at heart.
We swapped to Protect for severance because of the better benefits, easier access to your money and injury and dental cover. I have the Field Team's numbers on speed dial, the support is great.
The service we get is second to none. And you get the best options all from the one severance account type now. That's less paperwork and less stress if you happen to be made redundant without notice.
My case manager was fantastic. Just wanted to say thanks for your help, and support. You are great to deal with, and made a tough time a lot easier. All the best.
Under Protect's umbrella, I was able to keep my head up while I did my rehab knowing
I could still provide for my family while out of work for six months. I am now back on the job and back to normal.
Protect's severance account is so important because our industry is insecure. When we're out of work it gives us that time to get into another job without having to worry about bills.
Protect allowed me time to concentrate on recovery. My case manager was extremely helpful. All I had to provide was a doctors certificate to get the ball rolling, then everything was processed very quickly. 
Dealing with Protect in a stressful time was no problem. Their focus was making sure my wellbeing was taken care of and I was comfortable during my recovery from my accident. Thanks Protect and thanks MUA.
Having our severance balance secured with Protect means our benefits can't be used as a bargaining chip in workplace negotiations. 
I just wanted to thank you very much for all your help, you made this process stress free and easy. Thanks a lot.
I've tried to get income protection privately and couldn't get covered, firefighters have just too high a risk a job, so to have Protect cover is absolutely invaluable. I used that instead of chewing through my leave.
Every Protect staff member I've dealt with have been super efficient, polite and helpful from start to finish. Personally, I can't have wished for kinder and quicker treatment... you're the best!
Income protection insurance takes the stress out of everything, if you don't have to worry about money you can concentrate on getting better. Because we've all got bills to pay.
Protect income protection insurance is the best thing to happen to the fire industry for many years. My experience accessing it was fantastic and the follow up was also extremely welcome. I was very impressed.
I wish to thank you for having the scheme and giving me peace of mind during my employment with Metro Trains.
We couldn't do our role unless we were 100% fit, you'd be putting your crew at risk. My claim was reviewed, accepted and taken care of in a few days, it was all really seamless and comforting in the end.
It's not an easy path dealing with injury or illness. With Protect, you actually get given a case manager, so they help you the whole journey, instead of you just bluffing your way along.
Just wanted to say thank you for all your help over the last few months and allowing me to put a roof over my family's head and food on the table. It has been a stressful time, but I am very glad to get back to work.
This level of income protection for firefighters simply wouldn't be possible if you were attempting to negotiate a policy one out. Sticking together to negotiate certainly increases your bargaining power.
I would like to thank Protect for going above and beyond the call of duty, to make the seamless transition through what is a stressful time, back rehabilitated 100% and into the workforce, on full duties.
Protect is reassurance. Although your working life has come to a halt, you can still manage to pay your bills. I've used my income protection a few times over many many years and every single time it's been fantastic.
I'm 100% behind Protect. They met with my wife when I was in hospital and organised everything. We would like to thank you for all your help through a hugely stressful time.
Protect were really sympathetic. They even called me just to see how I was, how my family and friends were coping and how legal proceeding were going. They were genuinely interested and really helpful. 
I found Protect was easy to use. They were helpful, understanding and I didn't feel rushed. This stopped me stressing and allowed me to focus on my recovery and getting back to work.
Protect looked after me like gold, helped me with my paperwork and even when I was back at work, they still rang to see how I was going. Not many people do that.