Metal workers
For information specific to Protect worker members in the metals industry, detailing your injury insurance, severance account and how to make a claim, visit the workers page.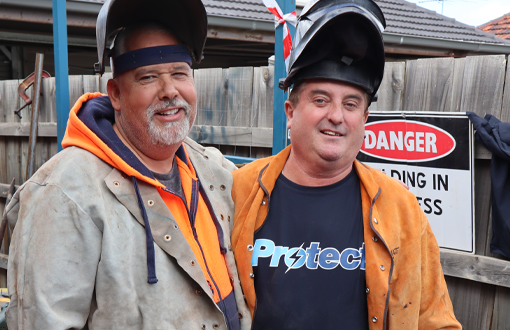 Different agreements = different benefits
The details of your Protect cover are found in the industrial agreement that sets out the terms and conditions of your employment. Ask your employer or union for a copy of your agreement, or search the Fair Work Commission website.
Severance & redundancy accounts
The metals division joined us in 2011 when the AMWU Vic Metals Branch endorsed Protect as the severance fund of choice. As the first fund to offer workers a tax-free component in the case of redundancy, Protect was clearly a better deal for metal workers in the cyclical world of construction.
The Protect severance account has been been structured to meet the rules of the ATO and to give you the opportunity to both:
access your account in the widest range of circumstances possible
access the greatest redundancy benefits possible, including the opportunity for tax-free or significantly reduced tax redundancy payments.
Injury cover
Metals members with a Protect severance account are also covered by AMWU Injury Cover. This specialised insurance offers worldwide cover, 24 hours a day, every day of the year and makes payment in cases of broken bones and serious trauma. It also offers a lump sum death benefit. Members, and their immediate family, are also covered for accidental dental injury. 
The policy is held by the AMWU and issued by ATC Insurance Solutions. 
Free confidential counselling service
All members of Protect and their immediate family are eligible for free counselling services. Protect Counselling is an external service sometimes preferred for the independence that ensures total privacy. It's separate from the employer, the union and the insurer.
We partner with Hunterlink to provide a free professional confidential service Australia wide 24 hours a day, 7 days a week. Protect are provided basic non-identifying statistics on the use of the service including number of calls, age range and industry.
CALL THE DEDICATED COUNSELLING PHONE NUMBER:
1300 725 881
Members may also access downloadable resources from the online counselling portal including information on dealing with workplace change and conflict, to family relationships and mental health.
Password: Protect
The service we get is second to none. And you get the best options all from the one severance account type now. That's less paperwork and less stress if you happen to be made redundant without notice.
At my age it would be hard to get another full time job if I'm made redundant, there's more casual work in the industry now. So the Protect account is like a nest egg isn't it, it can be very, very handy.
I've been able to claim a tax free redundancy and you can do it all on your phone using the App. You don't have to speak to anybody to lodge your claim, check your account or view your membership card.
We swapped to Protect for severance because of the better benefits, easier access to your money and injury and dental cover. I have the Field Team's numbers on speed dial, the support is great.