'The Protectors' Unite to Fight Cancer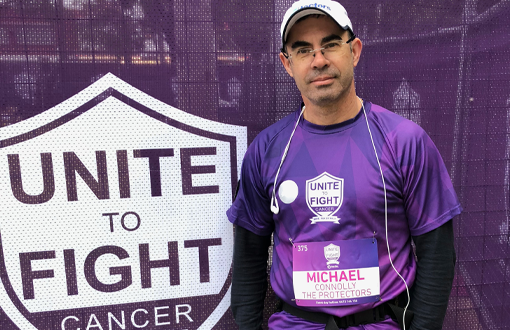 Protect entered a team of 10 participants into the 2018 'Unite to Fight Cancer' fundraising event on Sunday October 28.
The participants could complete either a 21km walk/run or a 60km or 100 km cycle. Our team members, The Protectors, consisted of 8 walkers, a runner and a cyclist.
Protect CEO Michael Connolly was involved in the annual fundraiser for the Peter MacCallum Cancer Centre for the fifth time, and the second while at Protect. 
Every year I go into the event with a different person in mind who is suffering a battle with cancer. The more funding we can put into fighting this disease the better.
MICHAEL CONNOLLY
Overall the event raised $1.3m for vital cancer research. The Protectors raised over $16,000 this year thanks mainly to our corporate supporters including the Maxcap Group, ATC Insurance Solutions, Pitcher Partners, Hall & Wilcox, Unity Bank, Reliance Recoveries, Disability Sport and Recreation, Building Employees Redundancy Trust (Qld), the ETU and NECA.
Support for the cause is greatly appreciated and provides a great motivation knowing that others are behind you.