Launching Tuesday 5 July  -  Launching Tuesday 5 July  -  Launching Tuesday 5 July
New system, new App & workers portal
Our member focussed approach means we're continually improving services. The latest Protect project has been over a year in the making. At midday on Tuesday 5 July, we launch our new IT system updating the worker & employer portals and the Protect App.
What's new?
The IT system that powers the workers portal and the App has been totally revamped. So while the new outer features look impressive with a cleaner, modern design and simplified navigation, it's the enhanced function and account management features that are the real star of the show.
Members with a severance account
Severance members will be pleased to learn that all types of claims can now be submitted via the Protect App and the workers portal. Previously this only applied to initial claims, the introduction of this feature will save you time and effort and reduces the need for hard copy forms.
Log in to the new version of the App from 5 July, to find your balance front and centre. Easily view your membership card, monitor employer contributions, update your contact details or send us fedback. Statements will also be loaded to the App later in July.
Members with income protection
The Protect App has improved service for income protection members. In addition to viewing your digital membership card, checking contributions and managing your contact information, you will now also be able to access income protection claim forms, previously only available at the website.
Looking for your statement? It will also be available on the App. The first run will take place later in July.
Wellbeing services & news
We've made it even easier for you to access important wellbeing services, confidentially and immediatley. Access Protect counselling phone numbers direcly from the App without the need to log in. As always, there is no identifying information shared between providers; Hunterlink & ADA, and Protect. 
Protect latest news is now viewable in the App with html features, which basically means it looks better and links will operate as expected, so you can navigate to important information.
Account blackout period
The current system, workers portal and App will be shut down from midday Thursday 30 June. There will be no online account access available to you for four days. Additionally, staff won't have account access during this time and therefore will not have the capacity to process claims or fulfill any other requests until the exciting new system is launched midday Tuesday 5 July.
In order to execute such a large task, the office will be closed Friday 1 July and Monday 4 July. Please be mindful that our teams will be especially busy during this period, if you must be in contact, we prefer that you email our Member Services Team via info@protect.net.au or call one of our Field Officers.
The big three things you need...
1. Up to date contact details
In order to use our online services, we need your current contact details including email address and mobile number.
Account security measures will restrict your ability to login, generate or reset your Protect password, unless your contact details match what is registered on our system. 

After launch, you will be able to add missing information on your account when you step through the password creation process.
If you have any difficulty with access after 5 July, please email our Member Services Team: info@protect.net.au
2. A new Protect password
All members require a new password to use the new system. There are two ways to set your access depending on your previous use of our online services.
If you have been registered with a Protect password at any time:
simply select the 'forgot password' link on the App or portal to set your new access.
If you're a new user, yet to register or generate a password:
please select the 'New to Protect' link on the App or the 'Register for online access' link at the portal.
Once you have set yourself a new password, your login details will work for both the App and workers portal.
3. The latest version of the App
The Protect App will cease to work on Thursday 30 June and the new version will be ready for you to download on Tuesday 5 July. During that short downtime you will not be able to use any of our online services.
Due to the increased account management features available via the App, we have enhanced security with the introduction of two factor authentication (2FA). The App will send you a unique one-time passcode via text message to complete login. 2FA will be required for all future App access. Facial recognition is enabled and will avoid repeated password entry requirements.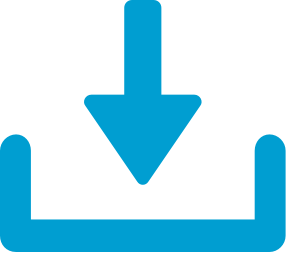 Download the new version of the Protect App - from 5 July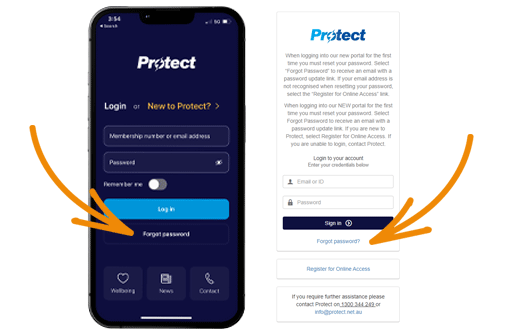 Have you logged in to use online services before?
Select 'Forgot Password'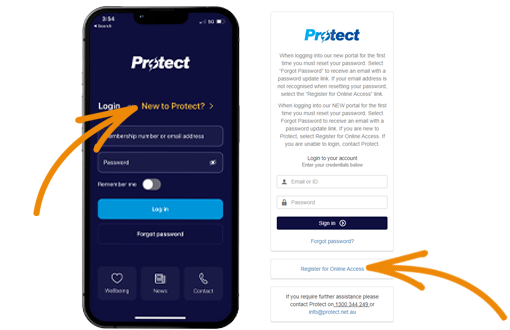 Are you a new user of our online services?
Select 'New to Protect' on the App or 'Register for online access' at the portal
What happens now?
Just sit tight and prepare for the account blackout period from midday Thursday 30 June - midday Tuesday 5 July. It would be a good idea for you to log in before that time to ensure that your contact details are up to date, but otherwise we don't need you to do anything right now.
We thank you for your patience and look forward to presenting you with fantastic new online account management tools!
Use the form below to submit any questions that will help populate our new FAQ series on the new system, workers portal and App.