Log in to your Protect account to view your statement
Protect statements are no longer sent by mail. Instead you may now view and download your statement from your Protect account through the workers portal. 
With the event of COVID-19 individuals and businesses have been forced to do most of their transacting electronically. To make it easier for members to obtain the information you need about your account and our services, the Protect Board have taken the decision to move away from paper based communications to an online platform. Our first major initiative in this area is to move your 6 monthly member statement online.
Who receives a statement?
Members who have had severance and/or income protection contributions paid on their behalf will have a statement generated for them. 
When will statements be available?
We will send you an email in early January and again in July advising that your 6-monthly statement is available for you to log in and access. Drop us a message if you think you need to update the email address we have on file for you.
Where do I access my statement?
Once you have received notification that your statement is available, you may log in to your account with your membership number and password via the workers portal to view or download your statement.
After log in, select the hamburger icon next to 'Announcements' to reveal the drop down menu and select 'Member Statements' from the list to access your PDF statement.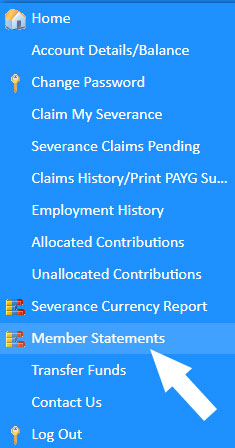 Will my statement be available via the Protect App?
We will be making this feature available on the App in 2022. Until then you will only be able to view or download the statement from the workers portal.
What is the workers portal?
The workers portal is the member's log in area of the Protect website.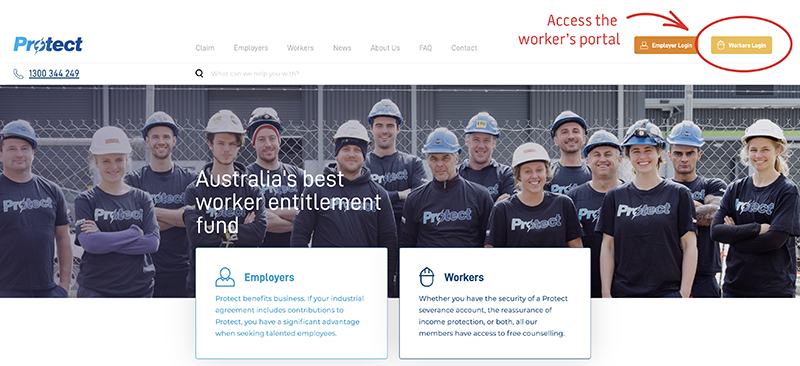 How do I generate a password for my account if I've never had one?
To activate your online account:
Jump online
Have your membership number handy and visit the workers portal, accessible via the yellow worker login button on every page of this website.

Select 'generate password'
You will be asked to verify your contact details in order to set your own password.
Please note: unless we have your correct contact details, the generate password feature via our website will not be useful to you. If you have any difficulty, please call us on 1300 344 249.
What if I've registered for online access but I can't remember my password?
Don't worry, if you can't remember your password you can reset it by clicking on the 'Forgot your password' link at the workers portal.
'Generate' and 'forgot' password options aren't working for me, why?
This may be because we don't have your correct email and mobile number on our database. Your details have to match what we have recorded for you on our system for account security. If you're having trouble, please call us on 1300 344 249 or use the form below and we will contact you to get you set up.
What will the statements look like?
Depending on whether you have a Protect severance account, income protection or both, you'll be given access to a pdf statement that looks like one of the below.