Protect severance more important than people realise
John 'Kussy' Kus has been working in the electrical industry for 25 years with 15 of those as a rep. He's working as the Melbourne Metro Tunnel Project Delegate, HSR and Senior Shop Steward across the stations and tunnel in construction.
"My role primarily is to be there for ETU members and station reps. I liaise with senior management to discuss project wide issues and policies, and I'm also available to assist with site specific concerns. I report and educate on anything that's happening in the industry, as all information is important.
"Having been on the project for some time, the site delegates being new to the project may need some questions answered about previous things that have already happened on the project. We have good relationships as we all have the same goals, which is to achieve best outcomes for ETU members.
"Being part of the union gives members a sense of security. Any problems that may arise in each members life, either at work or home, they have someone to call for assistance being a member. The negotiated agreements have hours of work and discussions put in before anyone starts work. It gives the opportunity for workers to just turn up, with all the conditions already set out for both parties to have a baseline to follow. It creates a consistent guide on most matters without having to debate all the time and flare up personalities.
"There are many key benefits in an agreement and some may be more important to members than others. The benefits of having Protect scheme benefits in our EBA has far more importance than people realise. This is why we continually need to educate new and old members on the benefits in our EBAs.
"There are so many conditions in an EBA that many workers don't realise, as usually the pay is initially the most important thing. The many other clauses and protections set out in agreements can be more important than just the pay.
"In the construction industry, most jobs are fairly short term. Some contractors aim to win work but don't always have the ability to carry employees throughout the highs and lows and therefore the redundancy parts in the agreements are important. When its time to claim redundancy you usually are able to draw on your Protect account, to assist you through weeks while trying to secure something else.
"Severance benefits can change from job to job. Some jobs have a set amount per week but other jobs may have different rates. That's why its important for members to have the Protect App installed on the phone, and to check regularly the correct amounts are going in. The process to claim is really easy. Have your separation certificate ready as a photo on your phone and upload it when prompted by the App claim form. If you have trouble ask your Delegate or call Protect.
"The history of unions and what they have done for workers everywhere for many decades is what makes peoples lives so good today. Unions are there to provide workers with the best quality of life they possibly can. Having Protect benefits negotiated into an EBA is an example of that."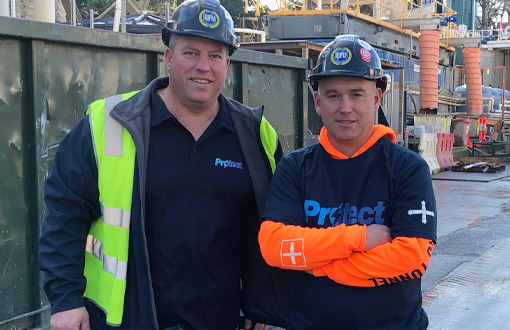 Arrange a site visit
Protect Field Officers are a support for workers
Kussy, pictured right with Brett Buckingham, regularly has a Field Officer visit on site to run through Protect benefits such as severance, so important in an industry that often sees redundancies.
To arrange for a visit, either virtually or in person, contact our Member Services Team.