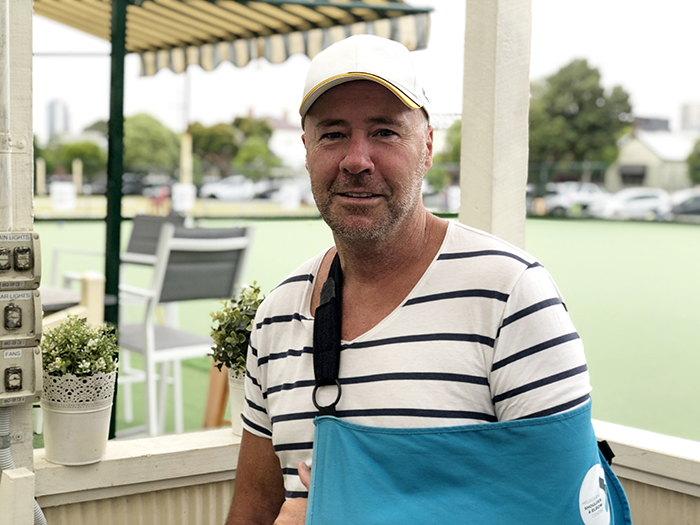 Best thing you can do is make sure you've got good cover like Protect
"There's been multiple operations, physios, specialists and I'm the main breadwinner so if I didn't have Protect income protection that expense and time off work would have impacted on everything, the kids, wife, house, the car, the whole lot."
MUA member Dean 'Nuts' Chrimes is still in recovery from a broken arm and shoulder reconstruction. Getting back to full capacity is going to take work and a long time.
"I've had three months off and there's still another six to 12 months of rehab after I get over the latest surgery. I've just got to take it real slow because the docs have said it could just snap again. That's a tough thing to hear when your job is so physical, and you've got a family to look after.
"There's been multiple operations, physios, specialists and I'm the main breadwinner so if I didn't have Protect income protection that expense and time off work would have impacted on everything, the kids, wife, house, the car, the whole lot."
As a union delegate Dean was involved in negotiating for income protection through his workplace agreement.
"Yep we voted for it and glad we did."
"Us waterfront workers had income protection through our superannuation but about two years ago we changed to Protect. It's like anything, someone offers you a better deal and you're going to go for it aren't you?"
"Income protection payments with Protect cover you for two years. Nobody wants to be off work for that long but then something like this injury can happen to you and turn your life upside down. Best thing you can do is make sure you've got good cover like Protect".
It's a win win for employers too
Providing income protection in the workplace is also a great advantage for employers because they don't have the burden of paying out all leave entitlements for a long-term sickness or injury, only the waiting period.
Employers also win by knowing that any sick or injured workers can recover properly with the security of knowing their income is protected. No one wants the safety hazard of a worker returning to work before they should because they're worried about finances.