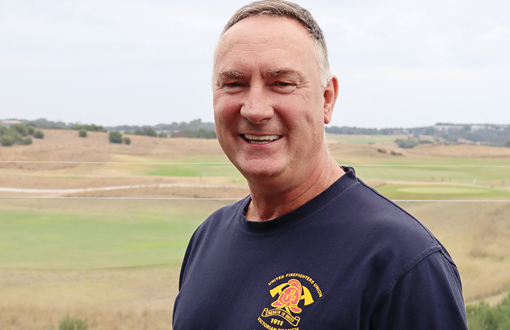 A policy that delivers
A MESSAGE FROM UFU VIC SECRETARY, PETER MARSHALL
UFU members have benefitted from Protect's Income Protection for almost three years now. Members are extremely pleased at the range of service and depth of coverage.
The feedback from our members is that Protect has provided a critical and necessary scheme that has finally closed the gap for firefighters who become ill, but do not fall within the traditional legislative structures like WorkCover or Transport Accident Commission. 
Prior to having income protection, the only way the union could protect its members who fell outside the legislative structure, was to either have their colleagues donate annual leave to them, organise a fundraiser, or alternatively, resort to welfare funds.
The very nature of firefighting results in a high level of injuries and illnesses, some of which are not easily identified in a traditional workplace injury structure; hence income protection provides coverage to members who fall outside the system.
Our members have expressed how wide the cover is, and how inclusive the benefits are. Income protection insurance pays up to $2,100 a week for up to two years, payment for rehabilitation services, and in the event that a member cannot perform their normal duties at home, it provides for home help through a registered provider.
Victorian professional firefighters are currently the only professional firefighters in Australia that have income protection of the type that Protect delivers.
UFU Victoria is extremely pleased at the range of service and depth of coverage. It is not a policy in name alone. It's serviced by Protect Field Officers who will attend to a member's claim and assist them in any way necessary. That level of service is not seen in traditional insurance policies, and in our view, the scheme is one that not only provides coverage and rectifies that gap that we previously had for injured members, but it also gives their families the certainty that they are able to provide for their day to day needs in the event that their partner or spouse becomes ill or injured. Interestingly, counselling services and accidental dental cover also extends to family members, in the context of dependent partners and children.
In pursuing income protection over the last decade, I can honestly say we have not seen another policy that has the extensive benefits and coverage that our members have with Protect. We also note that other Australian Firefighter Union branches are considering income protection based on the precedent that the Victorian Professional Firefighters have set, and that consideration extends all the way to our colleagues in New Zealand under the NZPFU.
Visit the Fire Rescue workers page